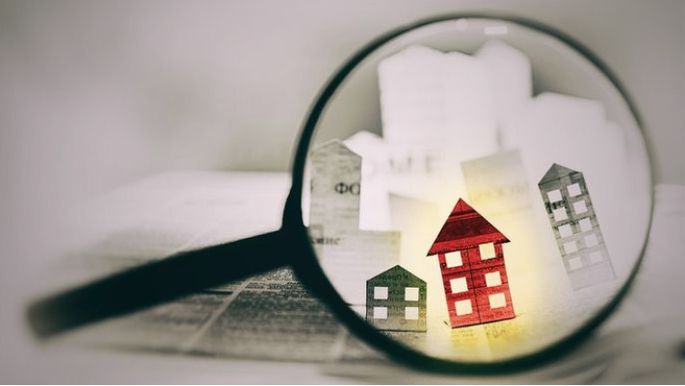 The Local Housing Market Update
The Real Direction of Real Estate
When searching for articles on our local real estate market, too often we find information that contains data from other metro areas outside of Los Angeles and Orange County which in reality has no real value for us. So, one begins to wonder what is really happening here at home?
Heading into 2020, it was clear that our economy was slowing down and that we were in the early stages of a recession. We could also see that the housing market, over the past year, was displaying signs that it too was slowing down, appreciation wise, though the figures on sales volume and appreciation continued to say otherwise.
Those who have not been financially impacted by COVID-19 are out there looking to buy, which is why we are seeing bidding wars at this time. The difference though is that today, during COVID-19, a seller will receive on the average between 8-10 offers where prior to COVID-19 they would have received 10-20 offers. Now a warning to first time home buyers: Due to the bidding war mentality, buyers and their agents are more focused on "WINNING" the bidding war instead of purchasing a home based on its real market value. This is a dangerous approach to use as a strategy based on where we are in our local real estate market phase.
The shortage of inventory continues to plague our local market but for a few months there, after the initial reopening of real estate as an essential business, it looked as though sellers were rushing to list their homes but in reality, it was the pent up inventory that would've hit the market during the two months we were locked down in real estate. Another side effect from COVID-19 that is affecting inventory is that those who had originally planned on selling their homes to downsize, the Bob Hope Generation, have decided not to sell and to keep their homes for now.
Back to home Page
Page 1 of 3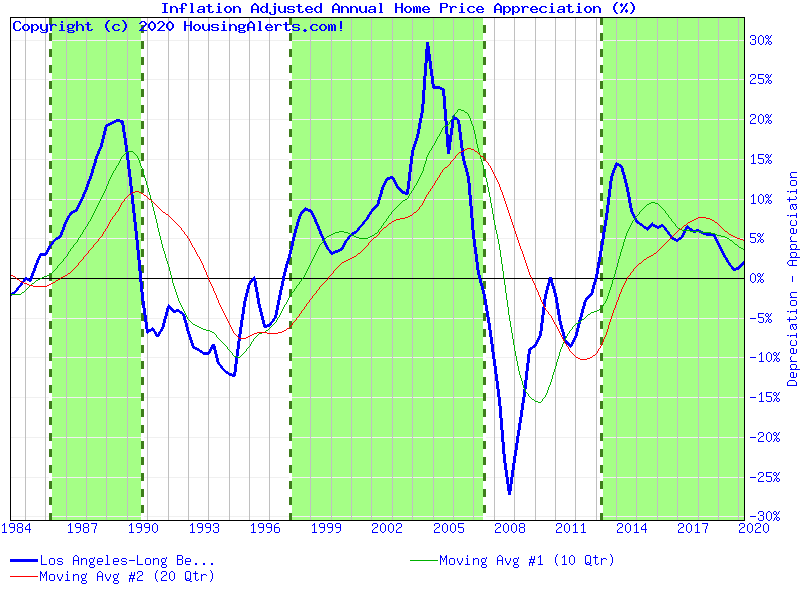 Record low-interest rates for home loans have helped to increase the home buyer's purchasing power though, at the same time, it has helped sellers obtain a higher price on their home. Which is why we continue to read positive news relating to the real estate market.
Now as to the direction of our local housing market. Properties will continue to experience gains through the remainder of this year and most likely into the first quarter of next year but home appreciation figures will continue their downward trend. This comes as no surprise for we have been seeing this pattern for some time now.
The average appreciation rate (not adjusted for inflation) for homes in the Los Angeles County area came in at 3.7% (Q2) but of course, there will always be hot markets within the county. For example, here are the hot zip codes in Los Angeles so far this year:
1. 90025: 24.8% W. Los Angeles
2. 90069: 17.9% W. Hollywood / Beverly Crest
3. 90035: 17.2% W Los Angeles
4. 90033: 14.9% Arroyo Seco/Boyle Heights
5. 91204: 14.3% Glendale / Tropico
6. 90023: 12.8% Boyle Heights
7. 90012: 12.8% Chinatown
8. 90023: 12.8% Boyle Heights
9. 90291: 11.1% Venice
10. 90006: 10.9% Pico-Union/Koreatown/Mid-Wilshire
11. 91601: 10.9% N. Hollywood
The following graph will display to you as to where we are as a market in Los Angeles County. The data displayed in the graph has been adjusted for inflation. The reason being, investors are looking at the market to determine which strategy to use and when to exit the market. The good news is that LA County is still in the wealth-building phase for those seeking to gain more equity from their property before selling.
Page 2 of 3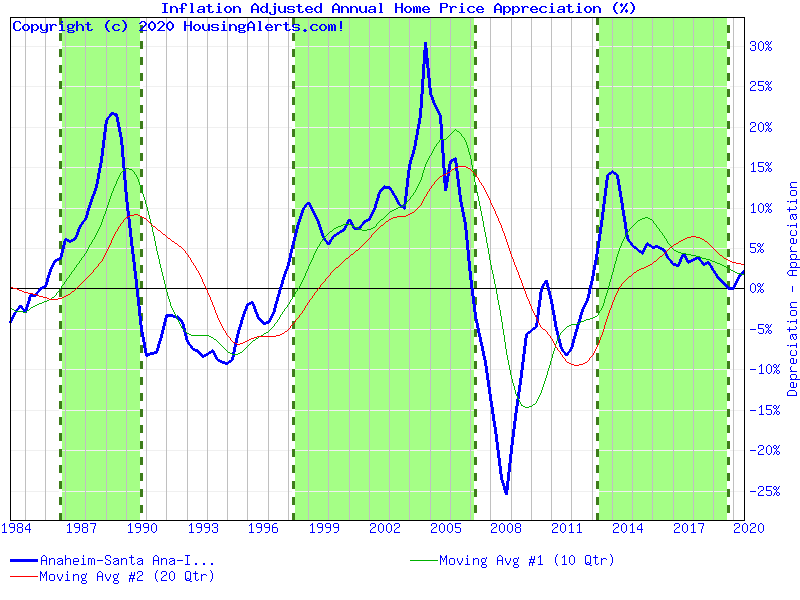 This graph too will display to you as to where we are as a market in Orange County and the data has been adjusted for inflation. The bad news though is that the OC has exited the wealth-building phase and has for the past two quarters. Those seeking to capitalize on their equity build-up should consider selling soon if this is something they have been considering.
The average appreciation rate (not adjusted for inflation) for homes in Orange County came in at 2.8% (Q2) and as mentioned above, there were some hot markets within the county though the numbers were much cooler than LA's figures. Here are the leading zip codes for Orange County so far this year:
1. 92606: 12% Irvine
2. 92655: 11.8% Midway City
3. 90680: 8.2% Stanton
4. 92656: 7.1% Aliso Viejo
5. 92707: 8.8% Santa Ana
6. 92802: 5.3% Anaheim (by Disneyland)
7. 92868: 5.1% Orange
8. 92841: 5.1% Garden Grove
9. 92843: 4.9% Garden Grove
10. 92703: 4.8% Santa Ana
Now, you must be wondering if you should buy a home now. For some of you, the answer is yes and for others, the answer is no but it will all depend upon your short or long term goals with the home. This is where I come into play as a professional in the real estate industry. I will ask you a few questions that will help me evaluate and provide you with the proper strategy that fits your needs. So feel free in calling me at (714) 612-0995 so to chat. Easy, simple, and with no strings.

Thank you for your time and I am here ready and willing to work for you when you are ready to buy or sell a home.
Page 3 of 3